---
F O R E V E R KNIGHT

---
Forever Knight is off SciFi!!!!!
Please support Kickstart the Knight and join the campaign to return this wonderful show to TV or video.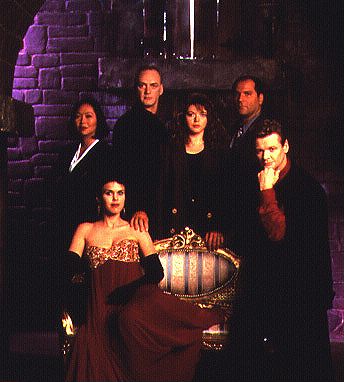 This is the cast of the second season of the series Forever Knight.
From left to right:
Natsuko Ohama, Nigel Bennett, Catherine Disher, John Kapelos, Geraint Wyn Davies
Sitting: Deborah Duchene


Forever Knight is the story of Nick Knight, a 13th century vampire living in modern day Toronto. In order to atone for centuries of killing, Nick has become a homicide detective in an effort to regain his lost mortality.


Check out my FK Bears page. You can find it through my DeBrabant Foundation page. (not enough room on this one)


---
Sounds
Nick
Nick's reaction to being partnered with Schanke.
Nick's answering machine message
Nick going a little nutty in "The Fix" (I love this line.)
Lacroix
Cool opening to "Last Knight" (ie: the 'Life is a gift' thing)
Another cool line from "Last Knight"
Nat
Nick and Nat discussion LaCroix.
Nick vamps out in front of Nat.
A little glimpse of Nick's feelings toward Nat.
Dance of the Vampires
The new Broadway musical based on the 1968 Roman Polaski film.
It stars Michael Crawford (aka the Phantom)
Clickhere for the song "Confessions of a Vampire" It reminds me of Nick
Also check out the shows official site for more info.
---
Pictures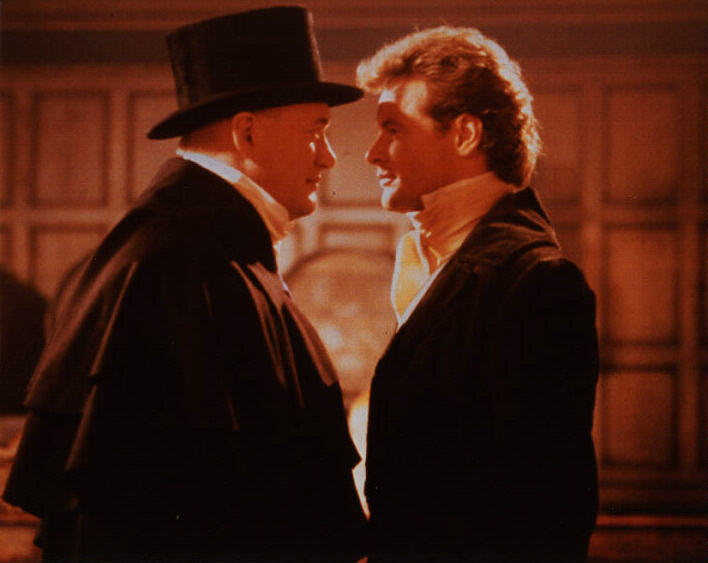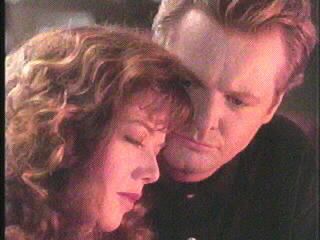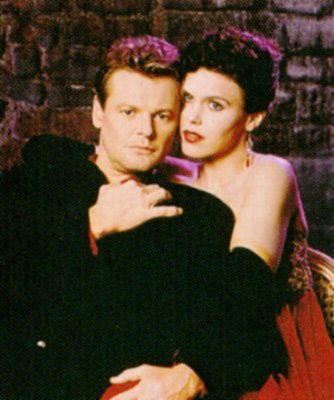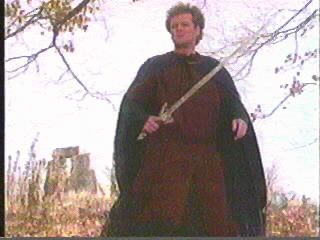 None of these pictures or sounds are meant to violate any copyright laws.
If you see a picture or anything else from this site that belongs or originated with you, please let me know and I will either remove the offending item or give you credit.
---
Stories
These are a couple of stories I have written from the Forever Knight universe.
Both have been published to the FKfanfic list and are therefore on the fkfanfic2 website.
If you do read them, please give me some feedback. I am new at sharing my stories so be kind.
Questions of the Heart
This is my very first attempt at fanfic. I wrote it about 2 years ago.
Portrait of Lonliness
This is not really a story in the truest sense. It is a picture I kept getting in my head when I listened to the song "Knowing Me, Knowing You" by Abba. I would just get a flash of Lacroix alone in Nick's loft. So I just wrote down what I kept seeing.
Listen to the song that inspired the story.
Light of Love
This story takes place before Nick goes to the Crusades. It is a follow up to the episode "Queen of Harps." I have always loved the story of Peter Ablelard and Heloise. So I found a way to incorporate their story into the FK universe.
Enjoy!

After All
I never thought I'd do it, since I'm one of those people who think 'Last Knight' never happened, but here it is.
This is a take on LK from Natalie's point of view.
Memories
(cue the music) Here's a story 'bout Nick and Janette....

---
Kickstart the Knight
Unfortunately, this wonderful show was canceled by TPTB in 1996. (sniff, sniff)
AND now The Sci-Fi Channel has removed it from their schedule.
BUT...
Fans of the show have been rallying to have the show revived in the form of television movies or a continuation of the series. Sign the online petition and find out how you can help.
Also, you can read the Virtual Fourth Season and other fanfic at the Official FK Fanfic Site.

Please take the time to visit the KtK Website.
Help to bring this show back in the form of television movies or a continuing series.

---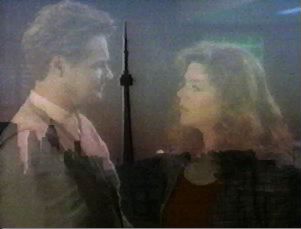 Click photo to return to main page
Please send me any questions or comments regarding my site.
I hope you enjoyed it.

Last updated May 8, 2003

---